ABOUT US
With a history that is close to a century, RHI owns and operates the largest milling operations in the Philippines, the second largest sugar refinery, and one of the pioneering bioethanol plants in the country.
Board of Directors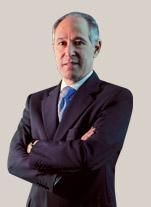 PEDRO E. ROXAS
Chairman (Interim since October 23, 2015)
% Shareholdings - 2.899%
60 years old
Been a member of the RHI Board of Directors since 1982.
Education
Mr. Roxas was educated at Portsmouth Abbey School, Rhode Island, USA and at the University of Notre Dame in Indiana, USA. where he obtained his degree in Business Administration.
---
Experience
Mr. Roxas is the Chairman of the Board of Directors and is the Chairman of the Executive Committee and the Nomination, Election & Governance Committee. He is also the Chairman of the operating subsidiaries of the company, namely Central Azucarera Don Pedro, Inc. (CADPI), Central Azucarera de la Carlota, Inc. (CACI), Roxol Bioenergy Corporation (RBC), San Carlos Bioenergy, Inc. (SCBI) and RHI Agribusiness Development Corporation (RHI-ADC).

Mr. Roxas is likewise the Executive Chairman and the President & CEO of Roxas & Co., Inc.; Chairman of Hawaiian-Philippine Company, Club Punta Fuego Inc.; President of Fundacion Santiago' Chairman of the Philippine Sugar Millers Association, Inc.; an Independent Director of Philippine Long Distance Telephone Company (PLDT), the Manila Electric Company (Meralco) and Banco de Oro (BDO) Private Bank; Director of Brightnote Assets Corporation; and a Trustee of the Philippine Business for Social Progress.